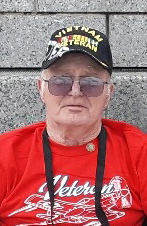 Larry R. Martin, 76, of Mount Vernon, Illinois passed away at 9:10 am October 12, 2022 at his residence. He was born October 16, 1945 in Mount Vernon to the late Willis Martin and Kathryn (Purvis) Whitaker.
Larry was an honored veteran and served three tours in Vietnam. Larry then came home to Illinois to become a master locksmith. Larry had a passion and skill for restoring antique vehicles. Larry was a Christian and very loved by his family.
Larry is survived by his sisters, Beverly Rightnowar and husband, Larry of Belle Rive, Illinois and Marilyn Docherty and husband, Mike of Bonnie, Illinois; nephews, Brian Rightnowar and wife, Tammy of Bluford, Illinois, Mike Rightnowar and wife, Peggy of Belle Rive, and Sean Docherty of Benton; and several great-nephews, great-nieces, and cousins.
In addition to his parents, Larry was preceded in death by his niece, Debbie Rightnowar and brother, Robert Martin.
A Visitation will be held on Friday, October 14, 2022 from 5:00 pm to 7:00 PM at Hughey Funeral Home in Mount Vernon. A Funeral Service will be held Saturday, October 15, 2022 at 1:00 PM at Hughey Funeral Home with Reverend Merle Fullerton and Reverend Steve Freeman officiating. Interment will follow at Salem-Mateer Cemetery in Wayne County, Illinois. Full Military Honors will be conducted at the cemetery by the American Legion Post 141. Memorial may be made in Larry's honor to Honor Flight of Southern Illinois.
Call Hughey Funeral Home at 618-242-3348 or visit hugheyfh.com for further information.