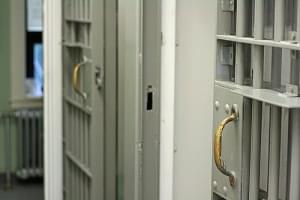 MARION COUNTY — Two Marion County Jail inmates were charged Monday in Marion County Court in connection with an alleged fight that broke out over the weekend in the jail.
According to court records, 27-year-old Matthew "Mattie" Woods was charged Monday with Class 3 felony aggravated battery in a public place. Woods is a federal inmate being detained in the Marion County Jail awaiting a November 10 final pre-trial in federal court.
He was arrested earlier this year on a three-count federal indictment alleging bank fraud and identity theft in connection with stolen mail.
The second inmate charged Monday is 29-year-old Mantez Duncan who has been remanded back to the Marion County Jail from the Illinois Department of Corrections after the appellate court ordered his case to be retried.
He was charged Monday with Class 2 felony aggravated battery of a peace officer for allegedly shoving a corrections officer during the reported fight at the jail.
Duncan was sentenced in 2020 to 55 years in prison for the 2019 shooting death of 39-year-old Clendar Edmund of East St. Louis man at a rural Central City home
Four others were convicted for various other crimes associated with Edmund's murder but Duncan was found to have personally fired the gun that killed him.
His retrial case is now scheduled for a November 16 status hearing on discovery.