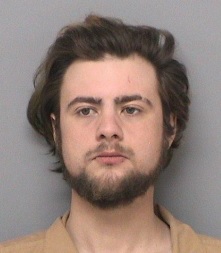 JEFFERSON COUNTY –Judge Jerry Crisel filed his verdict Thursday in the child pornography case of 26-year-old Mt. Vernon resident Zachary Terry.
Terry was facing 20 counts Class X felony possession of child pornography depicting children under the age of 13. He was tried in a bench trial last month before Judge Crisel who took the matter under advisement following two days of evidence and testimony. On Thursday Judge Crisel filed his decision finding Terry guilty of all but one of the 20 counts.
A pre-sentencing report was ordered in the case with sentencing scheduled for December 15. His sentencing range is between 114 years and 570 years in prison.
Terry was arrested in May after an investigation into a report of domestic battery led to an investigation into the child pornography charges. The case against Terry was scheduled to go before a jury last month but just days before the trial was set to begin, the defendant opted to instead by tried by a judge and waived his right to a jury of his peers.